For the official Croatian ECOWILL and Ecodriving website visit www.ekovoznja.hr
ECOWILL activities
ECOWILL awarded best "Eco" Educational Project in Croatia
Zagreb, 13th of June 2012. – ECOWILL project has been rewarded among 33 other projects that applied for the contest for the best "Eco" Educational Project. This award is proof that ECOWILL's mission is on the right path and it is recognised by different croatian decision makers and green political parties.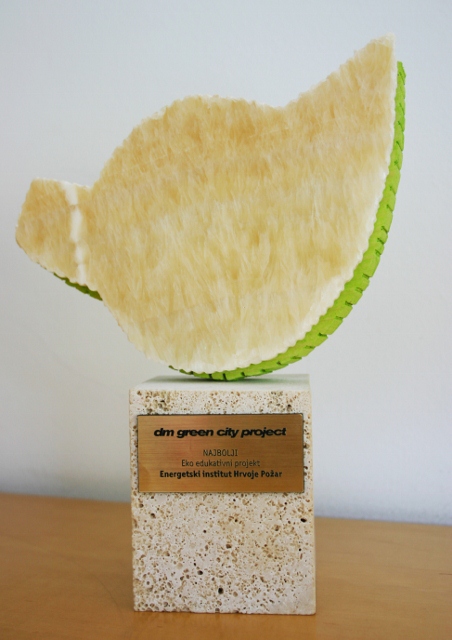 Ecodriving training courses in Croatia
Ecodriving short training courses for licensed drivers were launched in December 2011 when the first group of 32 drivers from the City of Zagreb municipality attended Ecodriving trainings. The second group of 21 employers were trained in April 2012 and the third group of about 50 more people is expected to be trained in the fall of 2012. Lessons are conducted by trainers of EIHP partner Croatian Car Club (HAK) with the official car "Toyota Yaris" branded with our official Ecodriving campaign visual identity. Typical Ecodriving lesson consists of  a theoretical part first (half an hour in the classroom – group lesson) and a second part in the car. The practical part consists of two ride with a trainer along the same chosen route: the first is performed with the drivers driving according to their usual style and the second time applying the main Ecodriving techniques. It has been planned to conduct few hundred training for fleet drivers from various private companies in the fall of 2012. The expectations of 500 drivers till the end of project will thus be met.
Train the trainer seminar in Croatia
The first "Train the trainer" (TTT) seminar for driving instructors took place on 3rd of August 2011 in Zagreb (14 driving examiners from Croatian Auto Club (HAK) were trained by experts of German partner DVR). 20 more were trained on June 30th 2012. The second seminar was conducted by lectors from HAK. Now our team consists of 34 educated trainers and they are spread over the 4 biggest croatian cities and all croatian regions. We are planning one more seminar in September 2012 for another group of 22 HAK trainers.