ECOWILL Activities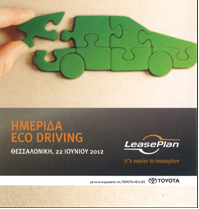 The "ECOWILL Train-the-Trainer" seminars in Greece  took place in CRES premises in Athens on 21-23 November 2012. CRES in collaboration with the Greek Federation of Driving Schools (POEO) chose 12 experienced driving instructors all over Greece to be trained from 2 DVR master trainers in order to be awarded with the ECOWILL certification (Level 1 & Level 2). The seminars concluded with great success and enthusiasm from the driving instructors which all achieved to pass the certification test at the end of the seminars.
For the objectives and the needs of the ECOWILL project the 12 certified master trainers with the supervision of CRES took the responsibilty to train at least 36 additional driving instructors in Greece and provide Level 1 and Level 2 (short duration trainings) in the process of the provided training in their driving schools. Until July 2012, 10 more driving instructors have been trained from the certified instructors and over 200 drivers have experienced a short-duration training with an average of 10-15% less fuel consumption.
By the end of the project, it is planned to reach the ECOWILL objective of 500 short duration trainings delivered in Greece
Additionally, Leaseplan Hellas in collaboration with CRES and Toyota organized an Ecodriving training workshop on 22 June 2012 in Thessaloniki for 20 participants with theoretical and practical training  on Ecodriving.
ECOWILL news and events are always included in the national Ecodriving campaign which is coordinated by CRES (www.ecodriving.gr )